Located just North of the Massachusetts boarder, Nashua NH is the state's second largest town. Nearly 86,500 people are situated within the city's limits; most of which are living in single family homes. New Hampshire is known for it's snowy winters which can be quite harsh on one's home throughout the year in this coastal city.
Exterior Repairs & Installations in Nashua
Although we may be located in Peabody MA, Bay State Exteriors is here to help southern NH homeowners improve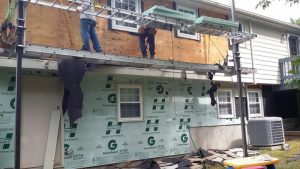 their home's look and function with beautiful roof repairs and installations, gutter replacements and more. Nashua was named the "Best Place to Live in America" twice by Money magazine — and this is mostly due to it's historical, small-town charm. The town's charm comes from meticulously maintained homes; from stone siding to beautiful front entrance doors. Homeowners here understand that a presentable home exterior helps improve their homes' value.
At Bay State Exteriors, our professional contractors are here to help make your dream home a reality by providing the best service in Nashua for the most reasonable prices in the area.
Our Home Repair & Exterior Remodeling Services
When it comes to improving an existing home or laying plans for a new build, Bay State Exteriors is here to help. We've helped Nashua residents with just about any project, from skylight installations, entire roof repairs, and gorgeous front door or sliding back door installs. Our crew is on call 7 days a week because we understand that, although other exterior home contractors may be sleeping, Mother Nature doesn't! If you've noticed any issues with your roof, gutters, siding or doors we encourage you to reach out to our experts today.
Contact us today for a free estimate on a home project or if you have an emergency issue with your home's exterior. We guarantee to get the job done right the first time and have no problem repairing past work that other contractors may have failed to install properly.