Located just a short drive down the road from our roofing company's headquarters in Peabody MA, Saugus is a beautiful North Shore area home to almost 27,000 residents. The town's rich Revolutionary War and Industrial Revolution involvement is attributed to the historic homes and businesses throughout the 12 sq mile area. Our roofing company in Saugus is here to make sure that homes in the area have a modern roof while still boasting that historic New England style architectural charm.
Signs Your Roof Needs Repair or Replacement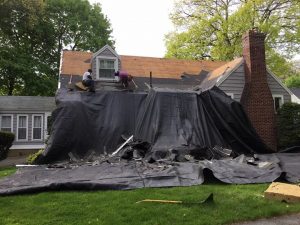 Although the town of Saugus isn't located directly on the Bay, it's only a few miles inland — and that means it shares the same fate when it comes to major storms throughout the year. Winters are brutal on the bay and roofs can really take a beating. Although asphalt roofs can generally last anywhere from 15-20 years if properly maintained, you should always be wary once the roof gets to be around 10 years old. Ice dams can wreck havoc on asphalt shingles over time and can even create attic leaks.
On the flip side, the New England summer months are hot. Extreme temperature swings can cause poorly installed roofing shingles to curl and crack. Replacing these shingles to make them flush with the rest of your roof is pertinent to keeping your home's indoor temperature better regulated.
Why Choose Our Saugus Roofers
Bay State Exteriors has more than 20 years of roofing experience. Our professional crew has replaced roofs on both old and new homes. If you have a home that's over 50 years old and still want to keep it's New England charm, our company can discuss with you which type of roofing material would work best for your historic home. There are plenty of options to choose from depending on what your pricepoint is and the architectural layout of your roof.
Not only do we provide homeowners and businesses in the Saugus area with roof replacement services, but also vinyl siding installation, door replacement, window installation, and gutter repair work. Any problem that you're having with your home's exterior we can fix — simply contact us and we'll get back to you with an estimate!