Roofs, like other parts of your home, don't last forever. Whenever you notice signs of wear and tear on your roof such as missing shingles, water stains, and moss growth, you should immediately call a roofing company and request a roof inspection. At Bay State Exteriors, are roof inspections are free of charge because we believe that all homeowners should truthfully know whether or not their roof needs repairs or a replacement.
Why Opt For A Professional Roof Inspection
Roof inspections are a great opportunity to determine a rough timeline for your roof. If your roof is 10 years old and you are noticing some loose shingles or you have experienced an ice dam or water damage over the years, an inspection will inform you regarding how many more years you'll get out of your roof. At Bay State Exteriors, we recommend a roof inspection once a year in the spring. New England weather can be difficult on asphalt roofs as there is plenty of snow, ice, and storm damage. As soon as the snow melts and the weather is warm enough, contact our professional roofers in the Peabody area and we'll send our best and brightest to assess if there is any damage.
When To Have Your Roof Inspected
As we mentioned, once a year during the spring is a great time to have your roof looked at by a professional. However, there are a few more instances in which you would want to call a roofing company, including:
Before you put your home on the market
Before you make an offer on a home
Before you begin a remodeling project such as windows, siding and other exterior improvements
If you notice mold in your attic or an issue with bugs
Parts Of Your Roof We Inspect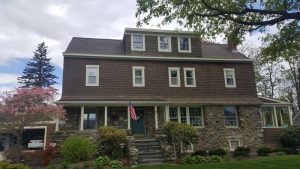 You can rest assured that our roofing company in Peabody will check every part of your roof to ensure it is structurally sound and that there are no issues. You can expect the entire process to take 20-30 minutes depending on the size and complexity of your roof. During this time, our roofers will check for the following:
Cracked or missing caulk
Rusted or missing flashing
Worn, missing, torn or broken shingles
Rotted wood or sagging
Cracks in the chimney or other protrusions
Missing or loose gutters
Bay State Exteriors is here to help make sure that your roof is doing it's job on a daily and yearly basis. Just as you would schedule a dentist appointment regularly, we always recommend taking proper care of your home as well. The best defense against needing an entire roof replacement is a roof inspection. Contact us online today to set up an appointment.