Living in the Northeast isn't easy; our homes are constantly battered with high winds, rain and snow. During the fall and spring months in particular when rain and snow melt are abundant, you may have noticed small (or large!) puddles near your home's foundation — this is a warning sign that your gutters and downspouts may need to be replaced.
Why Choose Our Replacement Gutter & Downspout Services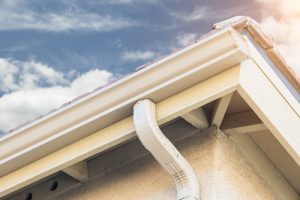 Our job at Bay State Exteriors is to keep your home in good working condition to ensure the structure has a long life, and part of that job includes making sure your gutters and downspouts are functioning properly. These exterior home necessities work to draw moisture away from your basement, siding, roof and windows. Bay State Exteriors keeps your home dry and protected during storm seasons with detailed gutter and downspout installation and repairs.
Why You Should Replace Gutters & Downspouts
If your gutters have been clogged, are no longer draining properly or they have been damaged, our team will repair or reinstall your gutters and to ensure rain and snowmelt flow quickly and efficiently away from your home.
When properly installed, gutters and downspouts help to prevent mold, mildew and flooding that may occur after storms, and they work in the background without much attention. When clogged, damaged or improperly installed, gutters can cause standing water to accumulate, drawing mosquitoes and rot. Poor runoff and drainage solutions can also cause water to seep into your siding, trim, windows, doors, attic or basement, causing more problems. Bay State Exteriors strategically places downspouts, flashing and drains so water flows without assistance and build-up is prevented.
Protect your home with peace of mind with expertly installed gutters and downspouts. Contact us today to learn more about gutter and downspout repairs and installation!