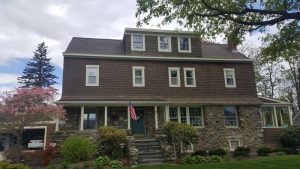 It's time for your home's facade to make a statement and stand out from the other houses in the neighborhood. If you've been looking for an affordable siding option with a bit more character than what vinyl siding can offer, then cedar impression siding is the perfect choice. Many Massachusetts homeowners, especially those living in the North Shore area, are opting for cedar impression siding over vinyl siding.
What Is Cedar Impression Siding?
Cedar impression siding gives homes a unique, historic Cape Cod feel to any home without breaking the bank by providing more texture via a wood-like appearance. The siding is installed similarly to your traditional vinyl siding, which means the installation time won't take nearly as long as a brick or stone facade might. While vinyl siding is installed in long horizontal strips, cedar impression siding is installed in smaller square panels (similar in size and shape to your asphalt shingles). The end result gives homes a more rustic, New England traditional style appearance.
Benefits of Cedar Impression Siding vs Vinyl Siding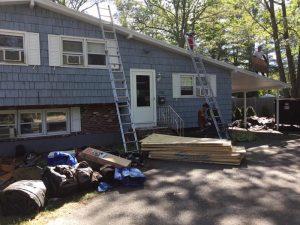 You may think that by forgoing traditional vinyl siding you're limiting your color pallet options. However, this isn't the case! Cedar impression siding comes in a variety of colors from rusty red, gray and brown hues, muted blue and even soft greens.
The possibilities with cedar impression siding are endless, and so are the benefits. Since cedar impression siding is different from traditional cedar siding, the maintenance required for the impression siding is much lower than it's traditional counterpart. You'll enjoy the added benefit of not having to worry about wood-burrowing bugs or restaining your cedar siding shingles. The cost is significantly less to install cedar impression siding than it is for traditional cedar. However, costs may be slightly higher than vinyl siding — but the beautiful finished look is worth every penny.
Why Choose Our Cedar Impression Siding Installation Company
It's important to ensure cedar impression siding is installed correctly, which is why we encourage homeowners in the North Shore and greater Boston areas to contact Bay State Exteriors. As a fully insured and experienced company, our crew will properly install cedar impression siding for your home. For a free project estimate, simply fill out our contact form and we will get in touch with you within 48 hours!