Your home's roof is one of the most important aspects of a house. It serves to protect your family, your furniture, your insulation and your electrical wiring. Without a functioning roof, you and your family would be subject to the sometimes harsh and unpredictable New England weather.
Why Choose Our Roofing Installation Company
At Bay State Exteriors, our professional exterior contractors always give careful attention to detail and exceptional workmanship at every home in the North Shore area. We want to make sure you have a roof you can rely on for decades to come; one that won't fail even in the the most brutal of winters and sweltering summers. Our company uses only the most trusted brand materials and won't skimp on details and quality.

When You Should Replace Your Roof
If your roof at home is showing wear, exposing leaks, has been damaged during a tough season, or is past its replacement time, Bay State Exteriors will remove the old, damaged shingles and make a seamless new covering. From the first day to the finishing touches, we make sure that every opening is completely sealed and each piece is secured, preventing drafts, water damage, pests and other damaging elements from entering your home.
Our roofing installation company is also here to conduct patch jobs as needed. If your roof is in great working condition but was damaged by a fallen tree or power line, we can quickly and efficiently repair or replace that section. The materials we use come in a variety of different colors and hues so that your home can be both functional and beautiful.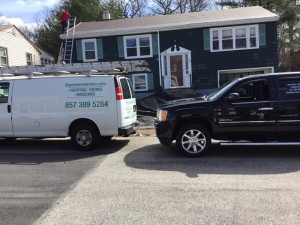 Our Roofing Installation Promise
Bay State Exteriors ensures a timely roofing installation process for every business or homeowner. We are careful to properly prepare the rest of your property for the renovation process; including covering your outdoor pool, garden beds, driveway and vehicles. The construction might look unsightly during the installation process, but our friendly contractors always meticulously clean up the site once the project is completed.
Homeowners are often subject to roofing scams, so it's important that you contact a professional, insured and trusted roofing contractor in the North Shore area. We will always be up front with our estimates, will never leave a project unfinished, and most of will work until you are completely satisfied with your new roof. Contact us today to get started on your next roofing repair or installation!