The roof of your home is one of its most valuable and vital assets to your property; it protects everything beneath it from your ceilings to your wiring, your furniture and, most importantly, your family. Bay State Exteriors exercises careful attention to detail and exceptional workmanship at every site throughout Eastern Massachusetts and Southern New Hampshire. Our experts use superior, certified green materials to ensure that your roof outlasts tough New England winters and hot summer sun.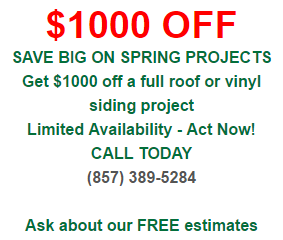 If your roof at home is showing wear, exposing leaks, has been damaged during a tough season or is past its replacement time, Bay State Exteriors will remove the old, damaged shingles and make a seamless new covering. From the first day to the finishing touches, we make sure that every opening is completely sealed and each piece is secured, preventing drafts, water damage, pests and other damaging elements from entering your home.
As a certified green business, you can expect the work we do to be safe and environmentally ethical — there's no need to leave your home while we perform your exterior home remodeling or repair needs. Give Bay State Exteriors a call today at 857-389-5284 for a free estimate and your chance to receive $1,000 off your roofing project!