Lawrence MA is located along the Merrimack River and over 75,000 people call this Essex County city home. Bay State Exteriors is familiar with the area we are proud to extend our exterior home services to hardworking residents of Lawrence, MA. If you are in need of roofing, siding, gutter, or window services, contact Bay State Exteriors today! 
Exterior Contracting in Lawrence, MA
Bordered by Methuen, Andover, and North Andover, Lawrence is a hard-working blue-collar town that produces electronic equipment, textiles, and paper products for surrounding communities. The city has gone through many revitalization efforts — namely architectural — to boost its curb appeal and economy.
Bay State Exteriors knows that having a home that both looks aesthetically pleasing and is fully functional is one of the most important aspects for a homeowner in Lawrence. Our professional exterior contracting company is here to make your community more desirable, one home at a time.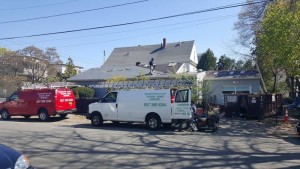 It is important to maintain your home's roof for both aesthetic and functional reasons. A damaged roof can lead to leaks that can cause issues in the interior of your home. Bay State exteriors will evaluate the damage to your roof and decide if it needs to be repaired or replaced. Our roofing contractors will install asphalt or rubber roofs that will protect your home from the harsh New England weather. Contact us for roof repair, installation, or emergency services for your residence in Lawrence, MA. 
If you are looking for a quick way to elevate the curb appeal of your home, new siding is a great option. Bay State Exteriors will install vinyl or cedar impression siding on your home in Lawrence, MA. Our expert contractors will properly install or repair your choice of siding to create a beautiful and protected home. 
Why Lawrence Homeowners Choose Bay State Exteriors
The downtown area of Lawrence is revitalizing with new businesses and shops, which in turn is bringing apartment renters and homeowners into the city again. Our residential exterior contracting company can help fix up your property's facade with a variety of our professional services. Let our team of experts install new windows, doors, and roofs on your newly rented or purchased home.
We work closely with you to choose the best possible colors for your home's exterior so that your home looks presentable and inviting. Improve your home's value with a brand new roof or vinyl siding! Contact us today at (857) 389-5284 for an estimate.
Other Home Exterior Services in Lawrence, MA
Emergency Roof Repair | Gutters and Downspouts | Window Replacement & Installation